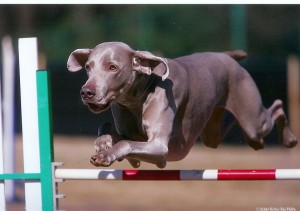 Agility is a wonderful sport for Weimaraners. It allows them to do things that they naturally love. Run, jump, crawl through tunnels and sometimes pretend that they cannot hear their trainer's voice. All great sport for our gray friends. If you are a good sport, don't mind having your dog occasionally making you look foolish and are willing to train your dog, then agility may be for you.
The Chattahoochee Weimaraner Club hosts at least two all breed agility trials per year.
These are held with our partner club, the Atlanta Kennel Club, and offer exhibitors five days of trialing opportunities per event.
We hold the two main trials every year ( April and July) in Perry, Georgia. All three are in an indoor, climate controlled environment.