Conformation shows are held either by all breed clubs or by specialty breed clubs like ours.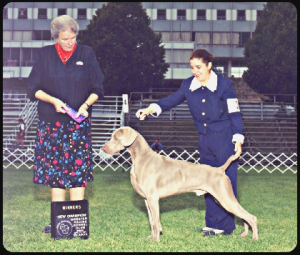 Their purpose is to provide an opportunity for exhibits (the dogs and bitches) to be judged by an American Kennel Club approved judge against the standard of its breed. In simpler terms, we are testing the dog to see how closely it conforms to the official description of its breed.
A dog must attain a total of 15 championship points in order to be a champion. These points must be obtained under different judges and at least 6 of these points must be attained in major level competition. Only about 10%-15% of all purebred dogs attain their championship.
The Chattahoochee Weimaraner Club holds two Weimaraner specialty shows per year. One in September in conjunction with the Georgia Classic Dog Show Cluster and one in April with the Peachblossom Cluster. Both of these shows are superintended by Jack Onofrio Dog Shows and entry information can be obtained by visiting their website at: www.onofrio.com